Effortlessly collect faster and at higher rates
All-in-one solution
Streamline billing and payments with Tebra's complete operating system
Practice Growth
Patient Experience
Care Delivery
Billing & Payments
Data & Insights
Billing & Payments products
Practice management
An intuitive, powerful dashboard provides a snapshot of essential daily tasks, key performance indicators, and custom workflow. Right alongside is access to patient records, appointment scheduling, task and payment tracking, document storage, reports, and more.
Insurance eligibility
Reduce claim denial and manage patient payment responsibility efficiently with electronic eligibility checks that can verify and approve eligibility before patients arrive for their appointment.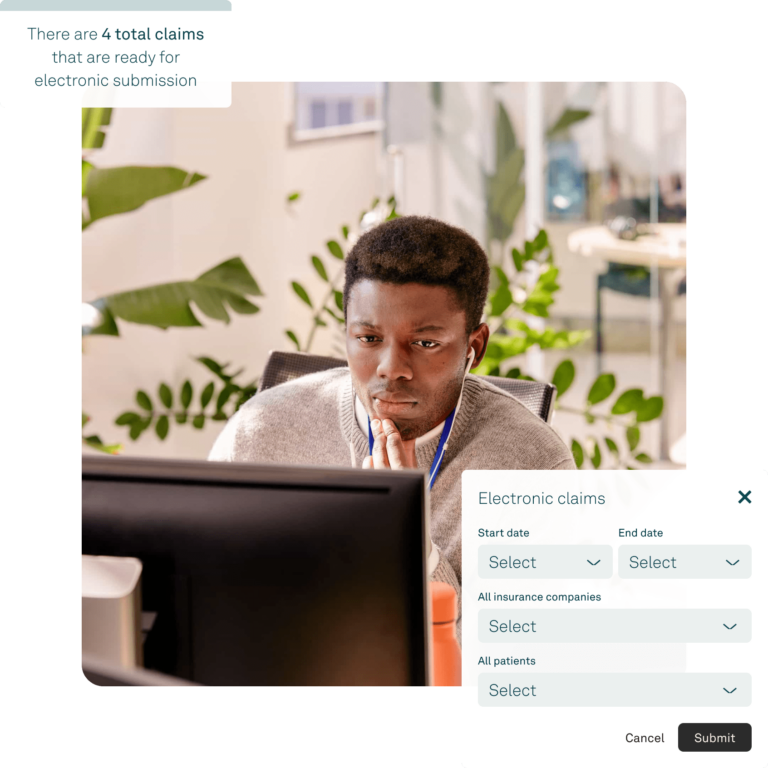 Claims management
Send electronic claims to more than 8,000 government payers and commercial insurance companies. Accelerate payments and cash flow with electronic insurance reimbursements and streamlined reconciliation with ERA processing.
Patient payments
A robust, omnichannel payment collection solution featuring multiple payment options and automated, pre-programmed messaging cadences that thoughtfully engage with patients to collect more revenue, faster.
Patient statements
Reach patients the right way, at the right time, with automated patient billing solutions that provide text messages, email, and mailed statements to ease the burden of collection for both you and your patients.
Robotic
process automation
Our RPA solutions eliminate mundane, repetitive tasks that take up your valuable time. Automate your revenue cycle management with intelligent rules-based automation.
Why Tebra?
A simpler way for financial well-being
Smooth out your billing operations
Frictionless billing operations help your practice optimize workflows, automate mundane tasks, and go paperless.
Collect more revenue, faster
Improve and simplify payment collection to reduce pain points for office staff and patients alike.
Reduce insurance complexities
Efficiently manage patient insurance eligibility and claims. Eliminate uncollectible revenue caused by invalid or insufficient insurance benefits.
Saving time is saving money
Streamline invoicing and online payments to reduce the time your front desk spends on manual data entry.
Billing & Payments driving results