Billing & Payment solutions
Managed billing
High-performance partners dedicated to helping you achieve your revenue goals.
Outsourced medical billing services for your independent practice
Tebra has an unparalleled network of billing company partners. We help match you with one of our partners to help you find the best billing company to support your practice.
Start smart
To set you up for long-term success, your billing company partner will walk you through the data gathering process. You'll understand what you need on the front end so your medical billing can be streamlined on the back end.
Gain billing efficiencies
Streamlined workflows help you stay in sync with your biller to reduce rejections and denials, simplifying the billing processes for faster reimbursements.
Stay in sync
Tebra's integrated cloud-based platform ensures that your front office, clinical team, and billing team are always on the same page.
Empower your staff
Managed billing is designed to support your office staff in the critical role they play. Our modern technology and proven processes automate time-consuming tasks and simplify workflows for patient intake, scheduling, check-in, billing tasks, and more.
Clean claims and data
With an award-winning EHR, native iOS and Android applications, and charge capture technology to reduce data entry and errors, Tebra's built-in rules engine ensures coding is correct at the point of entry to save valuable time and help you get paid faster.
Uncover actionable insights
Robust analytics help you follow key performance indicators to stay on top of your practice revenue. Track trends, uncover opportunities, address inefficiencies, and prioritize your team's activity based on the greatest revenue impact.
Best-in-class features that simplify the billing process and provide faster reimbursements
Scheduling/calendar
Schedule with ease and confidence. Built-in eligibility verification reduces denials and the work that they require.
Charge capture
Capture charges at the point of care, reduce duplicate data entry, and minimize errors. Available on the web and mobile.
Claim tracking
Monitor all your claims, check their status, and see what is being done to get you paid.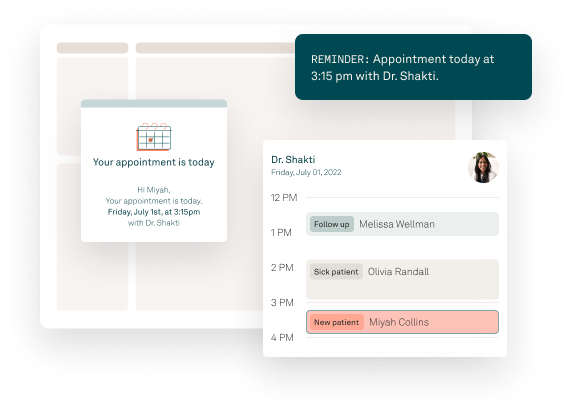 Billing tasks
Streamline your day by managing and completing all your billing tasks in one, easy-to-use inbox.
Billing analytics
Track your productivity and billing performance. Measure your key performance indicators and identify ways to optimize your practice revenue.
Productivity maximization
Support your staff's entire practice workflow, including managing patients, uploading documents, and sending secure messages.
Dedicated to your success
Our mission is simple: to enable the success of your practice. From day one, we make it easy to get up and running with Tebra.
Once onboarded, our support team is ready to make sure that your success continues.
Success coach
Your billing company and Tebra are committed to a smooth transition. Together, we'll bring your practice online as quickly as possible.
File transfer
We'll help you get your files from the cabinets and closets and up to the cloud, so you can access them any time.
Support your way
In addition to that from your billing company, you can get support from Tebra via phone, email, or chat. We're always here to help.
Frequently Asked Questions
Managed billing resources
To hire or not to hire a billing service
As the management of medical practices evolves with the introduction of new technologies, government requirements, quality assurance measures, and financial limitations, practitioners and practice managers have to decide which operations methods will both save expenses and generate revenue.
12 questions to ask before hiring a billing service
Once you decide to hire a billing service for your practice, you have an even bigger decision to make: who will you choose to manage this crucial aspect of your business and how will they ensure your success?
Is outsourcing your medical billing the right choice?
With an effective billing service, you can see lower operational costs with a good return on investment. To decide if outsourcing is right for your practice, start by analyzing the current state of your billing.
The Backbone
Visit our blog for helpful information about how to run a thriving practice, with topics including:
Growing your business
Modernizing the patient journey
Delivering care
What providers are saying
"With Tebra, everything is at your fingertips to get the job done. I have been able to increase my productivity due to the effectiveness of Tebra."

"The main benefit for me has been the way that Tebra keeps me so well organized and gives me visibility into all aspects of the practice."
Kareo and PatientPop are now Tebra